1950's Jewellery: Glamour and Glitz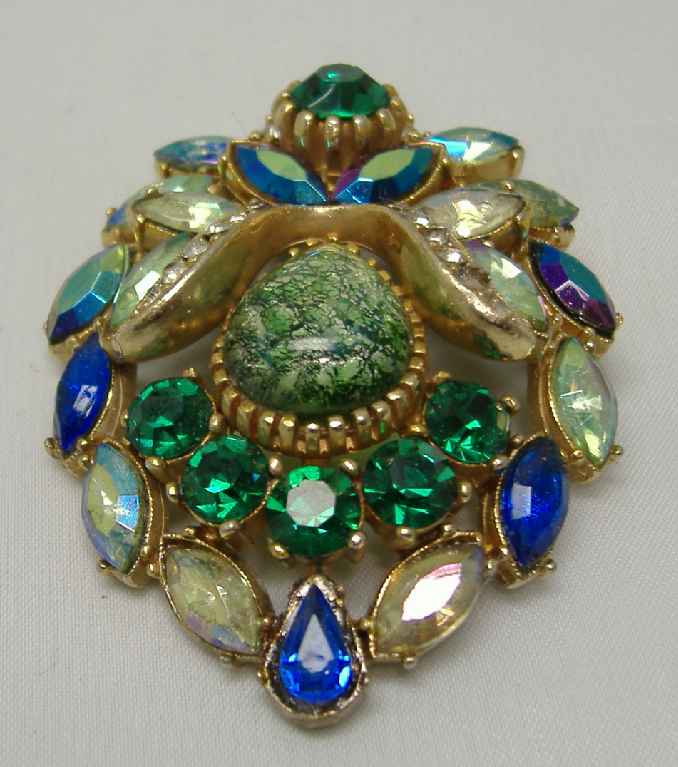 As life began to return to normal after World War II, designs and styles changed again in the 1950s which brought new designs and innovative materials. In Great Britain, most of the fashions and trends were influenced by the Festival of Britain which took place in 1951, which was held to boost people's morale after World War II. Many of the exhibits featured innovative radical space age designs which filtered down into costume jewellery. War time restrictions were lifted and once again diamante (crystal) from Europe (mainly Austria) was integrated back into costume jewellery along with various base metals.
Across the Pond,. with the United States economy emerging flushed with victory after World War II, all those women who contributed in the war wanted to spoil and treat themselves after the austerity and gloom. Jewellery designers such as Christian Dior and Miriam Haskell responded with the emergence of big bold pieces with fabulous large rhinestones being integrated into brooches, necklaces,.earrings and bracelets.
Recommended - 50s Jewellery Items
We are pleased to present '50s Jewellery' items for you. We have provided a series of Summary Tabs, which will let you access all the item results broken down by category such as date period or colour.

Here is a selection of 50s Jewellery as thumbnails. To view an item's details; firstly hover over the thumbnail image and then either click the thumbnail or the text link below it to view the full details.
Page: 1 of 19 (Items 1 to 25 of 458)
1950s Jewellery Information